*Okay, it's about high time I do an update seeing as CNY's nearing to an end…hehe…this is a roundup of the days I spent shuttling between KL and Seremban (mostly Seremban though)…

Of course, what would CNY be without the traditional 'Yee Sang'?? Hehe…I loved this dish, although we only get it at CNY…as with the Mandarin 'Lokam' oranges and 'angpow' right? Hehe…I'm sure everyone wishes there was more of THAT (those on the receiving end, that is…)


This is the first time all 4 girl cousins are back together in quite a while…Tine wasn't around last year, and ever since we hit university, one or the other has always been missing…oh well…what to do, we working liaoz…sigh…at least now we can (just barely) afford to go on shopping sprees when Tine makes it into KL!! :)


Post dinner, it was the usual annual family picture, only this time we didn't have to dress up in our Chinese garb (thank goodness) since everyone was in a hurry…besides, it was so HOT in Seremban those few days that I think we would have just died if you made us wear brocade…urgh…


Meet the main focus of this year's CNY – Johnavon!! Hehe…isn't he cute? Hehe…he was JUST about 3 weeks old at that time…how not to get spoilt with four 'aunts' and grandaunts fussing over him??
His big sister Jocelyn @ Jojo is also getting cuter by the year…gosh, she knows how to POSE for pictures…tilts her head to one side and shows teeth…heheh…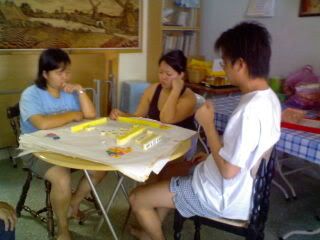 And of course, who could forget one of our favourite activites during CNY? Playing mahjong (no, there were no 'bald' incidents…it was between cousins anyhow)


I guess all the excitement was a lil bit too much for my uncle, who decided to fall asleep in the living room…quite funny really, when you think of it…my grandfather was doing the same thing on the couch, but didn't manage to get a picture of that before my dad sent them back…
Back on the KL front, I managed to catch up with Neeta, Joanne and Siew Heng on one of the rare occasions all of us were free to meet up. Neeta's currently based in Indonesia, and Siew Heng is living in Sydney, so we only get to meet up once or twice a year, and that's if we're lucky! Can't believe how all of us haven't changed much since our A-Level days in Taylors…scary…

By the way, this Sunday is Chap Goh Mei, which marks the end of Chinese New Year. Young single girls will be congregating in Penang (and other rivers nationwide) to throw mandarin oranges in hope of finding a good husband. Me? I'll be at a friend's place having dinner. Seriously, one of my friends tried it once - wrote her phone number on an orange and threw it in…only for it to be fished out by some creepy guy who wouldn't stop calling her for a month....thanks, but I'd rather stay single than be subject to that…haha…have a good weekend!!